SV is a company specializing in the design, manufacture and installation of systems and fire detection control panel. The professionalism, the quality of the projects of the products realized, the continuous trend towards improvement, in synergy with technological innovation, are the strengths of the company's business. The company has always been a customer-oriented organization, designing and implementing its own products and services in accordance with the concept of quality that SV means is compliance with the binding requirements and those expressed or unexpressed by the stakeholders, ensuring the maintenance of declared performance for a adequate life span and actual conditions of use and solicitation of the supplied products.
The mission of SV SISTEMI DI SICUREZZA is pursuing the quality of the entire service delivery process. A quality approach aimed at improving the performance of all corporate functions will also increase efficiency and flexibility and will improve the company's image and business results. An integral part of quality policy is the development of human resources and the commitment to respecting the statutory requirements and binding rules applicable to the Organization.
The Quality Policy is re-evaluated at the Review of the Quality System by the Management in order to adapt it to any changing regulatory, technological, organizational, economic and social conditions.
About SV
SV Sistemi di Sicurezza has been founded in 1989 by Mr. Vincenzo Polge as individual company of electrical and electronic systems. From 1995 the company began the specialization in the firefighting field, designing prevention and extinguishing systems in the Fire & Gas field. In 2005, the company started the production of the 1019 control panel and in 2012 it launched on the market the new EXFIRE360 control panel.
SV Sistemi di Sicurezza provides a continuous update about the evolution of the regulations, we send newsletters every month with updates on the fire protection regulations, either NFPA or EN 54. We participate in the most important national and international events, from the Fire Prevention Forum to Hannover Interschutz, one of the most important safety exhibitions. about SV
Our most important national customers are: Eusebi-Silvani-Ansaldo, Eni, Snam, Marcegaglia, Selex, and many others. We have also lots of foreign customers, mainly from: Germany, Netherlands, Spain, Turkey, Jordan, Taiwan, Algeria, Egypt, Korea, Dominican Republic, Nigeria, Angola, Saudi Arabia, Kuwait, Kazakhstan, Russia, Mexico and Japan.
In 2000, SV Sistemi di Sicurezza has been one of the first companies in Lombardy certified for quality  according to standard ISO 9001 with the aim to improve the quality of  products and services. In 2010, the company extended its services with the design, becoming manufacturer of certified firefighting control panels with recognition of the most important certification bodies such as ACCREDIA-IMQ-SIL-EN-ATEX-GOST-LR-MED.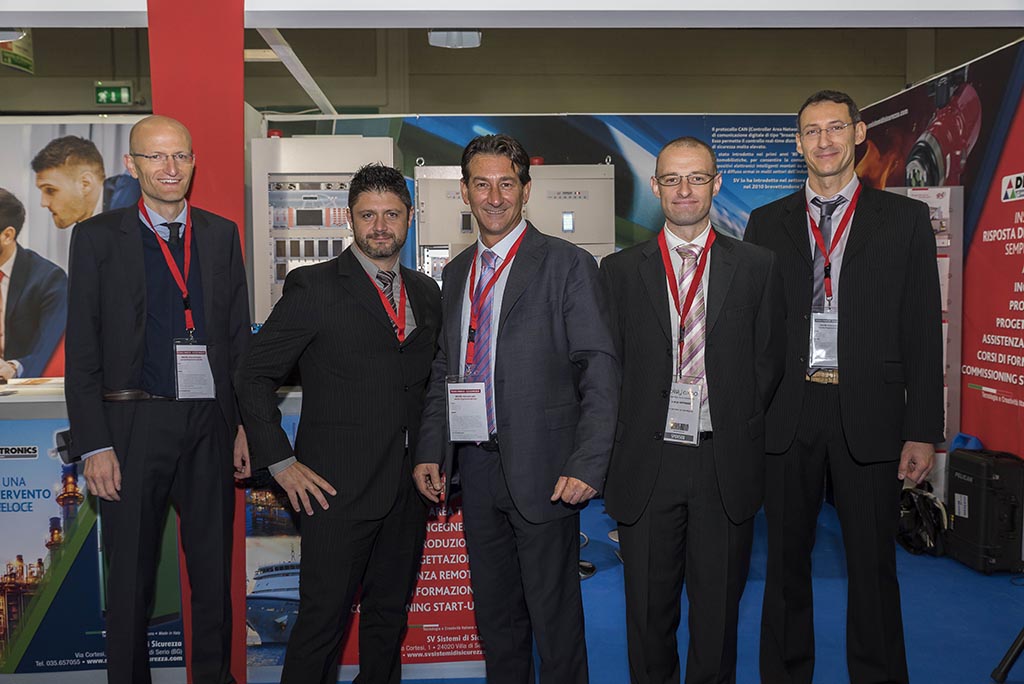 about SV, SV is a manufacturer of  detection and extinguishing systems in the Fire & Gas field, which provides services and solutions technologically advanced for the automatic control of fire protection equipment. The company obtained many certifications such as EN54-2 fire detection standard, EN54-4 24Vcc power supply standard, EN12094-1 water-foam-gas extinguish standard, EN60079-29-1 Gas detection standard, Russian GOST, Pending IEC 61508 Functional Safety, LOYD'S REGISTER MED, for applications at high risk of fire. The company also provides a consultancy service about fire protection and prevention. SV Sistemi di Sicurezza's headquarter is in Italy, but it has another office in Tunisia, foreseeing to open another subsidiary in Spain; moreover it has many foreign representatives for the sale of EXFIRE360 providing a commisioning service with its own staff. Our most important national customers are: Eusebi-Silvani-Ansaldo, Eni, Snam, Marcegaglia, Selex, and many others. We have also lots of foreign customers which become from Germany, Netherlands, Spain, Turkey, Jordan, Taiwan, Algeria, Egypt, Korea, Dominican Republic, Nigeria, Angola, Saudi Arabia, Kuwait, Kazakhstan, Russia, Mexico and Japan. EXFIRE360 is a made-in-Italy product. The modular architecture of EXFIRE 360 is the result of a long path of research oriented on fire protection and detection. We are aware that this control panel will contribute to improve fire safety, to save more human lives and to safeguard our Heritage. About SV