THE STORY OF SV SISTEMI DI SICUREZZA
This history is about one pioneer company and its founder with great vision and wilfulness:  Vincenzo Polge, President of SV Sistemi di Sicurezza located  in Villa di Serio  whose core business is the engineering, design and production of fire and gas systems and panels intended to control and extinguish fire in  oil & gas sector.
In 1989, when he was 22 years old, Mr. Polge founded SV as sole ownership: the company was specialized in safety intruder and access control systems.  Mr. Polge had just completed the military service and he had a  electronics technician diploma in his hands; in his head, the determining for electronics with an uncommon talent   (he had invented a car turning on by itself).
From the beginning his password was "high quality" .
Vincenzo Polge was aware about his product power and he decided to launch it in Italy: he got many projects in the South Italy, mainly for big shopping malls such as GS with huge electrical systems to  complete in 4-5 months. But his want to do increased day by day and Mr. Polge went ahead: in 1995 he acquired one of the first big projects in fire and gas field for a prestigious chemical company in Lodi (it was requested to secure the company warehouse).
From the beginning SV Sistemi di Sicurezza starts with 15 employees: SV staff is stable over the years with a peak of 40 employees between 2001 and 2002 when further innovations are also introduced. From 1996-1997 SV acquires important clients in Oil & Gas sector and, from 1998, Mr. Polge decides to focus on the quality and SV is certified according to ISO 9002 standard (and, three years later, according to ISO 9001).
It's  time for SV to promote its products abroad: Germany, Egypt, Kazakhstan and also some "sensitive" countries like Algeria where it was requested a very high level in terms of staff security and where the big oil extraction  sites  needed some efficient fire fighting systems  …. and SV could meet the request offering its specialization.  This made SV different from its competitors.
Then in 2005 Mr. Polge received a file about a fire control panel existing on the market produced by another company and installed in more than 3.000 sites over the world. SV had the opportunity to realize it   ex novo and to carry out the maintenance of the existing systems.  But it is different to design and test a fire control panel than starting from zero in compliance with the current standards.
Finally in 2007 SV launches its first control panel model 1019.
In 2010 Mr. Polge starts thinking about his own control panel provided with the most innovative technologies on the market. The project is successful  and in 2012  the certification's process starts with IMQ Institute.
For this job Mr. Polge pays his full attention:  during the Fire Safety Expo he launches the new product with a brilliant result in terms of appreciation by the Security Officers of the biggest Italian companies. The product is specified in more than 150 tenders for the following 3 years.  And also the multinational companies are interested in SV: the first purchase offers arrive but Mr. Polge does not sell.
This is High Technology,  made-in-Italy manufacturing.
The new products are booming and they are sold over the entire world. Some new certifications are implemented  such as gas, fire and extinguishing ones («we are the only ones in Italy able to offer a certified control panel for fire and gas detection»), and other certificates to sell in Russia, Kazakhstan,  Germany.  The certification to sell in the USA is pending « in the States we have many requests but actually we are not allowed to make any offer».
Now SV is not a simple installer but it's an international manufacturer of fire & gas control panels in oil & gas sector.
SV is able to design the control panel and to realize it; after the installation on site by third parties we start-up the system (this step is called start up or commissioning).
SV is organized in 15 divisions: the most important is Research & Development department. The Sales Dept. is working with the vendor lists (we contacted around 1.200 and we are listed in around 50). 2 persons are working in the Administration and Financial Dept, 6 in the Technical Dept. and 7 in Production/Logistic Dept.
50% of SV team is less than 30 years old, as well as the graduates.  Every employee is attending 20-25 training courses per year: SV is investing a lot in training: We believe that "if you are kind with your employees they will be kind with your clients accordingly".
The high quality, the specialization, the markets' diversification  allowed SV to safely go through the crisis.
The promotion remains as important  as it was originally, also more:  we implemented 6 multilingual  web sites for different markets, one e-commerce site, one portal dedicated to  worldwide geolocation for all the fire experts interested in collaborating with SV; last but not least, Facebook, newsletters and marketing.
In 2018 SV receives the certification for Health and Safety at work according to BS OHSAS 18001 standard: the safety is a must for SV like the quality. Then in 2019 SV starts working about the new certification according to ISO 45001 standard and in December SV is certified in compliance with the new norm ISO 45001 (replacing  BS OHSAS 18001).
In 2019 SV is celebrating its 30-years activity: 30 years of worldwide experience in  OIL-GAS sector and manufacturing of Fire & Gas control panels; 30 years of skills and competences approved by national and international bodies; 30 years of commitment and seriousness.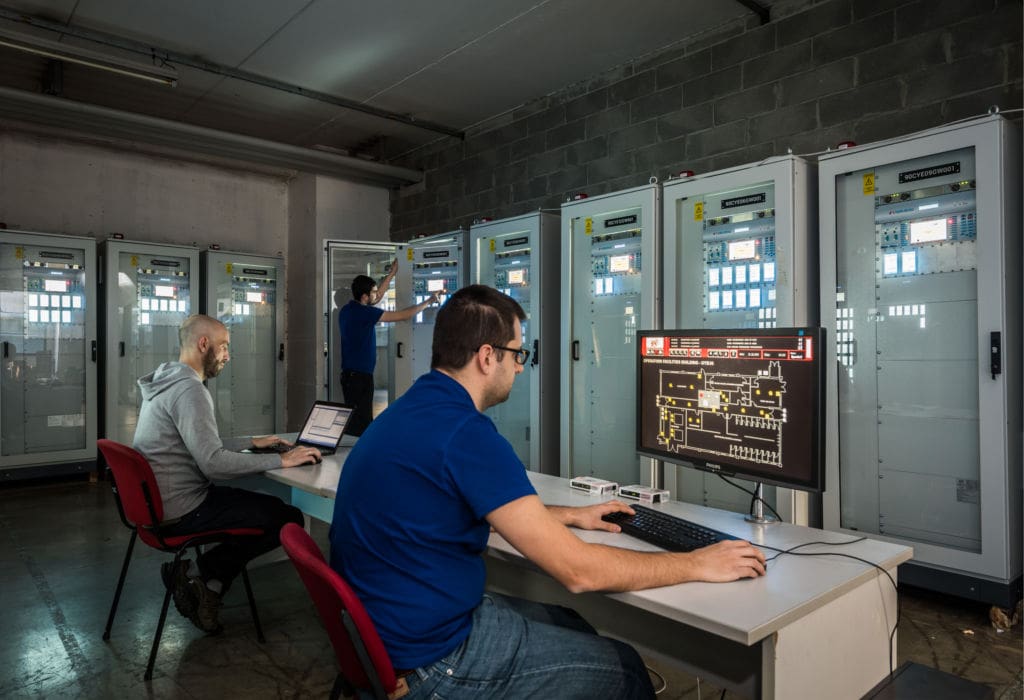 Who we are SV is a manufacturer of Fire & Gas fire extinguishing systems, with technologically advanced 360 ° services and solutions for the management of fire extinguishing systems, certified according to EN54-2 fire detection standard, EN54-4 standard for 24Vcc power supply groups , EN12094-1 standard for extinguishing water-foam-gas, EN60079-29-1 standard for gas detection, Russian GOST, Pending IEC 61508 Functional safety, for applications with high fire risk. In addition to the design and production we offer a 360 ° consultancy service in fire protection and prevention. SV Sistemi di Sicurezza is present with its offices both in Italy and Tunisia with the aim of opening also in Spain in addition to the foreign representations in progress for the sale of the EXFIRE360 product, operating with its staff in various countries for the commissioning of certified fire control panels and systems. Our Italian customers include Eusebi-Silvani-Ansaldo, Eni, Snam, Marcegaglia, Selex, and many others, while abroad there are orders in Germany, Holland, Spain and Turkey and in other countries outside the European Union such as Jordan , Taiwan, Algeria, Egypt, Korea, Dominican Republic, Nigeria, Angola, Saudi Arabia, Egypt, Kuwait, Kazakhstan, Russia, Mexico and Japan.EXFIRE360 is a product entirely Made in Italy, the result of Italian professionalism, attention to design , professionalism and ingenuity that distinguish us. We offer it to the national and international fire safety market, aware that this plant will help improve fire safety, protect even more human lives and safeguard our heritage.