ITALIAN CERTIFIED MANUFACTURING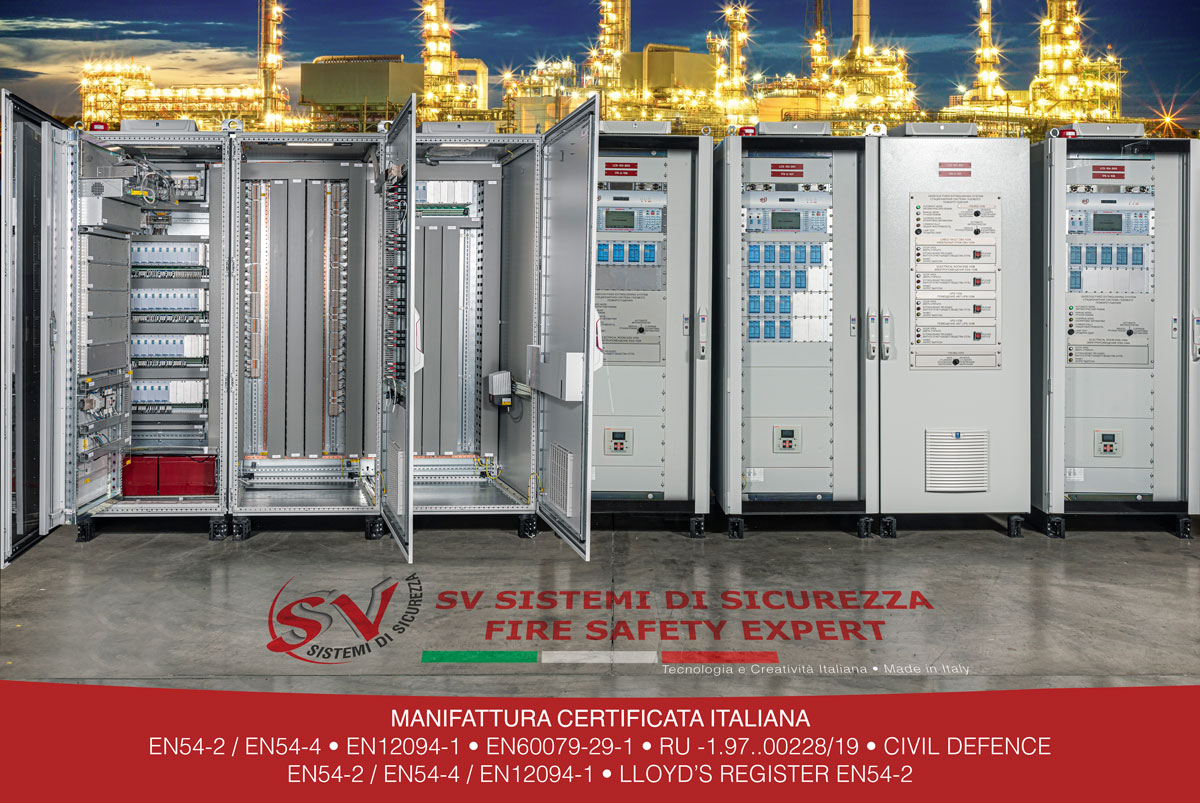 Italian certified manufacturing
Greetings to our readers,
SV Sistemi di Sicurezza has been operating for over thirty years in the context of active protection of industrial plants, in the Oil & Gas sector, on board ships and in sites where there may be high risks of fire or explosion.
As a specialized company in the sector, SV is able to design and build certified fire alarm systems for technologically innovative smoke detection, gas and extinguishing systems, of absolute safety, in full compliance with the reference standards and without ever compromising on the cost-benefit ratio. .
The professionalism, the quality of the projects and products created, the continuous trend towards improvement, in synergy with technological innovation, are the strengths of the company's business.
In the last period SV has dedicated itself & teh Italian certified manufacturing to centralized systems compliant with the EN 54-13 standard, to which all the signals to be acquired for automatic fire detection in local or network configuration belong.
In addition, SV develops remote I / O units and 20A and 40A power supplies with the ability to remotely monitor all performance.
These detection systems (thermal, flame, gas) designed by SV find application in places such as marine platforms for oil extraction, oil pipelines, gas pipelines, sterilization chambers, bottling plants, airports, railway stations, tunnels and galleries road and railways, etc ..
All these systems are able to command and supervise numerous types of extinguishing systems, acting according to the principle of double consent and on the indications of European and international standards (NFPA 72, IEC 61511, etc.
In this perspective, it is worth remembering the merits of the EXFIRE360 product, which characterizes its uniqueness in the market for its modularity requirements, availability of an intuitive touch-screen operator interface, hot swap of components (i.e. without shutting down the system) , possibility of creating complex network systems between exchanges, certification for use in numerous countries (EU, EEA and EAC countries, UEA, e